For some of you DIY fanatics that are also crazy about go karting, it can be a fun job to make a go kart for yourself. As you may have read in one of our previous posts, the best go karts are custom made from inside people's homes or garages.
Some of you may have been inspired now and think that you will make a go kart soon, but like anything, this will not be a simple task. There are many guides on the internet, such as this great one, defining every part of a go kart you should consider.
To create a go kart you need to consider the many things that a go kart needs to function with – Firstly, the engine (of course). The engine is what makes the go kart fast or not and if you are going to build the engine yourself or buy it as a part from your local store, it will still need some expert knowledge to understand how to make the kart accelerate faster.
You also need to fully understand the steering system to. This is also a difficult part of the go kart to get right. If not done right, the steering to your kart can be poor. It may be too slow and sometimes unreliable, resulting in scary moments when you are turning corn30 – 40 mph.
Back to the engine, some guides tell you that you can even use a lawn mower engine for it. This is risky because you don't know that the engine will pull out. A lawn mower engine can break down easily and may not make your kart that fast. Unless you're a pro mechanic, then I advise that you buy a good small engine that will do the job right.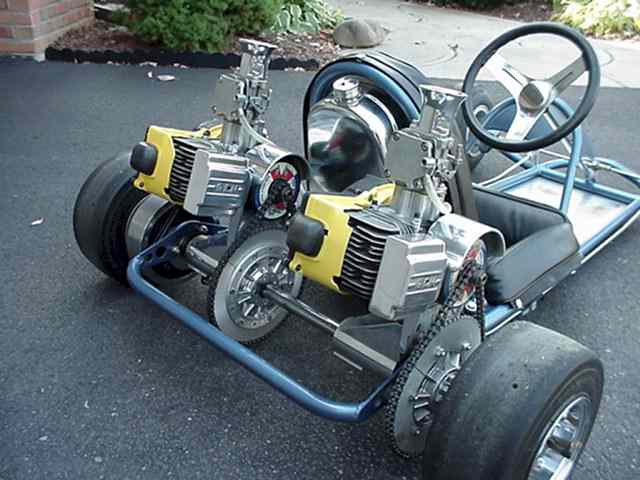 The frame to the kart can debatably be the most fun part of creating a go kart. By smelting metal together to create a completely unique shape to your choosing, the frame can be the defining part of your kart. Along with some added wheels of your desired size, this can make your kart either look like a monster truck or a race car.
Below is a video of how this mechanic  created a go kart from scratch. As you can see, the kart is built from the initial frame to the engine and results in looking like an ordinary kart you see at your local track. Think of it like manufacturing anything such as an electronic mobile phone. You build the separate parts and it then becomes easy to put together.
However, do not be afraid to go all out with modifications that either make the go kart look good or perform better. It doesn't really matter because this would be your creation and as long as the kart is safe to drive, then it will be fine.